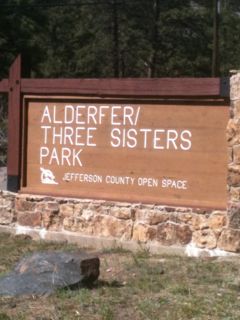 Alderfer/Three Sisters is not a single trail but a network of trails all jumbled together in one Jefferson County Colorado open space park. In fact, when you look at the map of the park trails, the word cluster%&#k comes to mind. So here's an easy rule of thumb to remember: "Stick to the perimeter trails and do a giant loop, and you'll do fine." The loop trail shown with this trailsnet entry stays pretty much to the perimeter, but does not do the Mt. Evergreen portion of the giant loop. If you're up for a longer ride, you'll cross the road at the east (lower) parking lot.
If you don't see at least one mule deer on your ride/hike, you must not be paying attention, because they're pretty prolific in this area. You will have a fair amount of shade while riding this trail, but it is by no means in a dense forest, so slather up with sun screen. Between the shade, the elevation and this particular location, it is often cooler here than in Denver. On the day that I went, it rained here but not in Denver. So don't depend on the Denver weather forecast for your trail planning. It wouldn't hurt to pack along a light rain jacket, just in case.
To access the park, travel south of Evergreen, Colorado on Highway 73.  Turn west on Buffalo Park Road, approximately 1 mile to the east parking lot.  The physical address for this east trailhead is30299 Buffalo Park Road. Some of the trails highlighted in the trail map below include: Hidden Fawn Trail, Sisters Trail, Bearberry Trail, Mountain Muhly Trail, Homestead Trail, and Silver Fox Trail. It is a good idea to avoid the Dedisse Trail going east. It will take you out of the Aldefer/Three Sisters Park and will lead you to some pretty gnarly switchbacks.
The route shown in the map below is from the east trailhead. Some people prefer starting this loop from the west trailhead which is also on Buffalo Park Road. Two similar Colorado mountain bike trails are: Heil Ranch Trails near Boulder and Walker Ranch Loop Trail.
Trail Map
Suggested Lodging