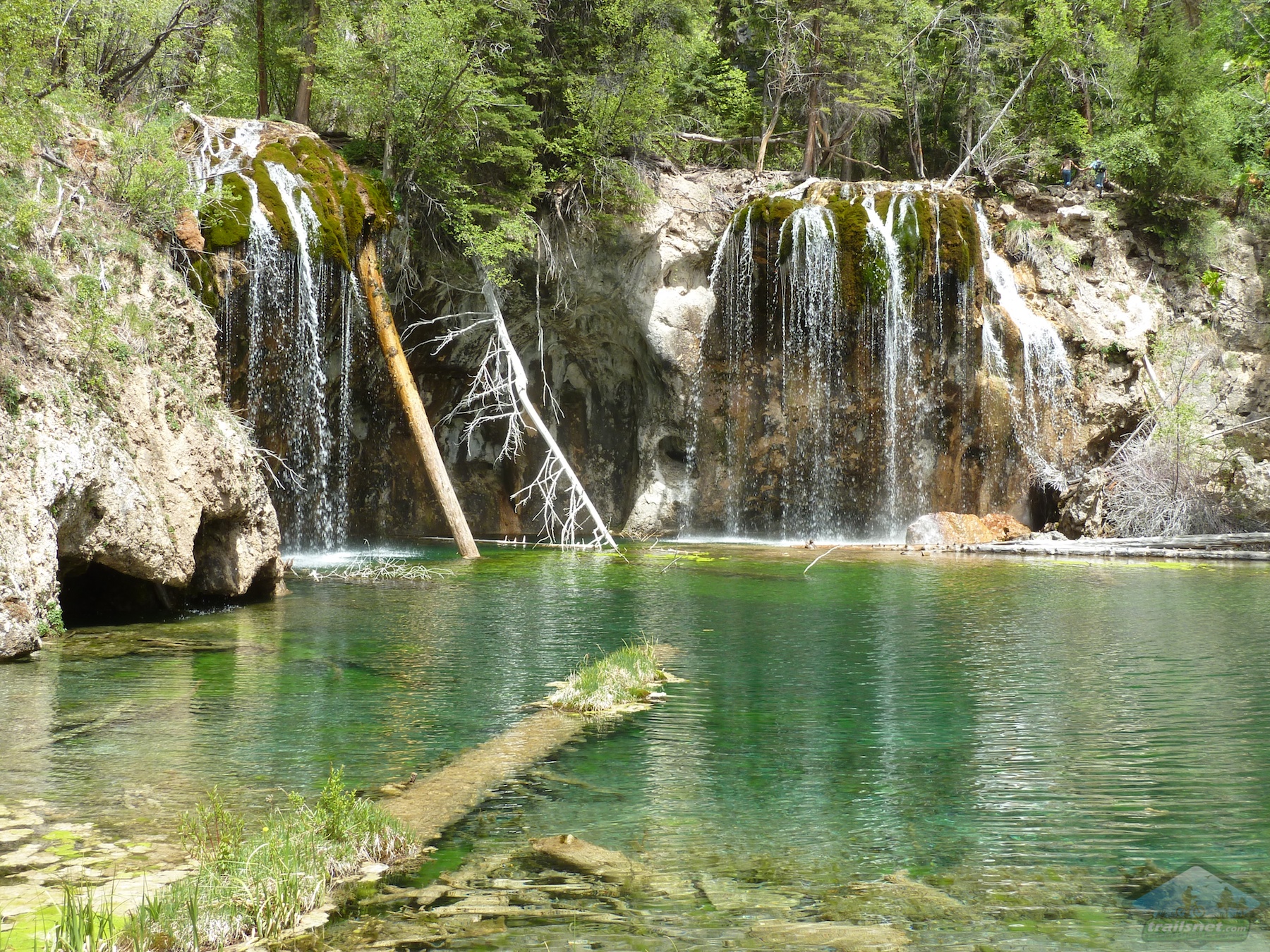 Hanging Lake may very well be one of the most photographed lakes in the world. It is absolutely crystal clear with a magical blue-green hue. This alone would make it an absolutely spectacular high-country lake. But there's more. A year-round mossy waterfall flows directly into the lake providing the picture-perfect photography opportunity. And above the lake falls is another set of waterfalls.
But wait, there's still more because one of the two upper falls spills directly out of a rock wall giving it the names Spouting Falls, Spouting Waters, and Spouting Rock. And behind that set of waterfalls is a perfect little hiking trail complete with small caves and a through-the-looking-glass view of the falls from the backside. From that point, you can scramble to the top of the lake waterfalls for some more great birds-eye view of the lake. But be very careful. It's easy to be distracted by the beautiful scenery and forget that you are basically on the edge of a cliff. Safety first, pictures second.
If you thought that was all, there's still more. Because even accessing this lake is a magical experience. The trailhead is located just off Colorado's famous I-70 highway. If you're headed west, the exit is in the heart of Glenwood Canyon and is before you get to the No Name and Glenwood Springs exits. If you're headed east, start looking for the exit as soon as you get in the canyon after the No Name exit. This, unfortunately, is the most common way to access the trailhead. However, the (my) preferred way is by bike on the Glenwood Canyon Trail. I suggest renting a bike from either Canyon Bikes in Glenwood Springs or from Glenwood Adventure Company, also in Glenwood Springs. For the easier route, you can catch a shuttle to the (Dotsero) end of the trail from either of the above mentioned companies. They will take you to the (Dotsero) end of the trail where you can ride your bikes downhill most of the way back. In the process, you can stop at the Hanging Lake trailhead and begin your 1.2 mile hike up to the lake.
Yes, the trail is a bit steep, but it's also pretty short. Take some water with you and enjoy a leisurely pace up the trail with lots of picture/rest stops along the way.
Trail Map
Suggested Lodging