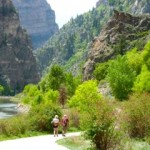 And now for something completely different…
Glenwood Canyon Trail is indeed that. Remember those stories of trolls that live under bridges? Now is your chance to be the troll, except that you're not just limited to bridges. You'll be toolin' around under entire stretches of I-70, a major highway.
This stretch of canyon has been described by many as one of the most scenic stretches of highway in the world. The problem is, if you're driving on the highway, you don't really get to appreciate it. You're going too fast and watching the road. At least that's been my experience.
But not so when you're on the trail. You can go as fast or slow as you want, stop whenever you'd like and enjoy Glenwood Canyon to the fullest. It's finally clear why they say this is such a beautiful stretch of Americana. Imagine being able to ride your bike down the Grand Canyon. Actually, you don't have to imagine. In the 19th century, what is now called Glenn Canyon was called the Grand Canyon.
Okay, here's the details: You should probably start your bike ride in Glenwood Springs. Let me go back one step further. How do you get to Glenwood Springs? You could drive your car like most people; or you could fly into the Aspen airport, like rich people. Or how about taking the train? What a great way to get the true rails to trails experience. If you haven't ridden the train in awhile (or ever), you owe it to yourself to give it a shot. That's how I got to Glenwood Springs two weeks ago. And I loved it so much, I went back again last weekend. The train is comfortable and offers you some beautiful scenery that most people never see. Plus, once again, you aren't driving, so it's much more relaxing and enjoyable.
Once in Glenwood Springs, you have many activities available such as rafting, Segway rides, 4X4 adventures, ziplines, and of course, the best one, bicycling. In addition to the Glenwood Canyon Trail, there's an even longer trail from Glenwood Springs to Aspen called the Rio Grande Trail.
The Glenwood Canyon Trail is 16.2 miles long, but you can get as much or as little activity as you'd like. You can just ride to the Grizzly Creek rest area, have a snack & ride back. Or you can ride to the Hanging Lake area, hike up to the lake, then continue on to Dotsero and back to Glenwood Springs. But you'd have to be in incredible shape to do that.
Either way, make sure you pack lots of water with you. Because this trail falls into the "Water, water everywhere, but not a drop to drink." category. You follow the Colorado River the whole way, but I wouldn't suggest drinking out of it without a filter. There is a drinking fountain @ the Hanging Lake rest area, but there's no guarantee it will be working. There's also a nice cold stream there, but once again, filtration is recommended.
It is typical for the trail to be closed from early November to sometime in April. Unfortunately, there doesn't seem to be any website or phone # to discover the exact opening & closing dates. One of the reasons they close this bike path is because highway I-70 is located directly above it, so snow-plowing operations could cause hazardous conditions. Often these dates are listed in one of the local newspapers such as the Aspen Times, but can often be difficult to find. I would recommend that the folks @ CDOT post a Glenwood Canyon Trail status page for those of us who eagerly await its opening each year.
Trail Map
Photos
Suggested Lodging